← 4 Days 4 Laurel Dresses
Life Lately →
25 Before 26
So last week was by birthday, I am officially a quarter of a century old. Crazy, when people ask me how old I am I usually start to say 23 oh wait no I'm 24 now I've got to get used to 25.  I would not classify myself as a "birthday person" or someone who wants a big celebration and deal made of their anniversary of the exit from the womb. If you know me you'll know that I'm generally quiet and not too interested in having people make a fuss of me. In kindergarten they actually wanted to hold me back because I didn't speak to the teacher for the first half of the year haha. A little has changed since then but not that much.
Tim was out of town so I had a quiet evening with my parents and grandmother and it was very nice. So now that I had my birthday it was time to get cracking on my next list of goals for the year and review last years list.
25 Before 26
See Allison, my sister, get married! – Can't wait for the end of June to head to northern California and be her Maid of Honor.
Visit a state I've never been to.
Participate in Me Made May 2013!
Sew a pair of well fitting pants
Stop biting my nails – been working on this for years
Decorate my new place – once we find it!
Complete Gertie's Bombshell class and dress – I bought this an embarrassingly long time ago.
Spend a few days in Napa and the Bay area after Allison's wedding – I lived there for a time in college and can't wait to go back!
Eat breakfast more often – I think my coworkers will appreciate this one.
Read or listen to more books – I spend a lot of time driving from client to client for my work so audiobooks will most likely be the way to go.
Visit a new and possibly weird museum – I'm hoping for something super quirky or strange.
Go on longer bike rides
Try a new recipe every month
Sew more tops – every time I am struggling with picking something to wear its the top half with the issue.
Work on my debt snowball and stick to my strict budget.
Drink more water – I just got a great app, Plant Nanny, to help with this one.
Start a new tradition – maybe holiday or seasonal?
Take a spontaneous weekend trip.
Bake some bread
Learn to use my serger to its full capabilities
Sew some cute pajamas
Hike the Grand Canyon – gotta have a least one big and possibly unrealistic goal right?
Complete a month long photo challenge
Try making pasta from scratch
Have my favorite year yet!
Now we have to review last years list –
Draft a pattern from scratch – I did this one without really intending to. A friend of Tim's wanted to remake a favorite dress and I ended up drafting out a pattern and sewing a relica for her. I someday will make myself one since the patterns already done and we're the same size!
Visit NY – Tim and I visited New York in July and scoped it out for a possible future home base.
Visit my seester in her new home – Did this a couple of weeks ago posted here.
Go camping – Didn't do this but hopefully can go this summer with our besties.
Get a new fancy bike and ride her all over – Still deciding on what bike is best for what I want to do with it but I believe it is narrowed down considerably. I hope to purchase something this month.
Get a tattoo, obviously sewing themed – honestly my social anxiety has prevented this from happening but maybe soon.
Create a pretty sewing studio – I did this but now have to pack it up and move in the next few weeks. I will try to snap some pics before she's gone.
Host a holiday party – Well I didn't do what I intended but I had a lovely childhood friend over and we did Christmas crafting so I'm gonna count it.
Go on a picnic – We did this a couple times. Wish the weather was nicer and we could do these all summer long.
Make a quilt maybe for said picnic – It's cut out but I am so overwhelmed – should have picked a smaller size!
Sell all of my junk – this is in progress especially with the impending move!
Dress up and go out for a fancy night with friends – Tim and I attended a charity ball with my coworkers and danced the night away. I wore this dress I made.
Take a train ride – Again not how I intended but we took tons of trains in New York and Chicago so I'm crossing this off.
Read a book out loud with Tim – We read the Catcher in the Rye out loud on a recent trip to LA. It was fun revisiting something I read in high school but had little appreciation for at the time. I hope this can be a tradition for us.
Organize my sewing patterns – check it out here. 
Do some volunteering – Did a little here and there but would like to do more this year.
Visit San Francisco – This one will be completed at the end of June.
Take more pictures of everyday life – Completed but always room for more.
Go to more shows – music, art, and comedy – This was completed like 10 times over. We saw so many great concerts and attended tons of comedy shows this year. In case you live in the Phoenix area you should definitely check out the sketch comedy group my boyfriend is in Bully Mammoth. They perform at the Tempe Center for the Arts and I went to everyone of their shows this year.
Visit Chicago – Check out a few snapshots here
Sew more staple items especially for work – I sewed a few things that have made frequent rotations in my work wardrobe – still room for improvement but I'm gonna give me this one.
Take time with my grandma and review our family history – Timing for this one never worked out so its on the back burner.
Purge my closet and keep the one of a kind items
Make an Arizona bucket list and start working on it
Be more me!
18 out of 25 isn't too shabby and a couple more should be added shortly!
Are you a list or goal maker? Any tips for sticking with it?
P.S. If you noticed #3 from this years list you saw that I will be participating in Me Made May 2013!
That was a lot more words than my posts usually include so as a treat here's a Ryan Gosling meme that I really appreciate.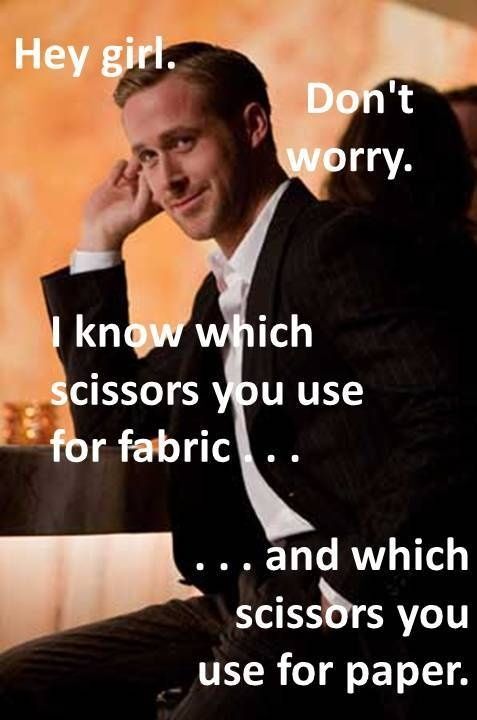 May 2, 2013
This entry was posted in
Life
and tagged
24 before 25
,
25 before 26
,
goals
,
list
,
me made may 2013
,
mmm13
. Bookmark the
permalink
.
← 4 Days 4 Laurel Dresses
Life Lately →