← Day Trippin
Cooper for the Hermano →
Thanksgiving Tova
If you follow my Instagram you may have noticed I had plans to sew up a Hawthorn for Thanksgiving dinner this week. I thought I would have plenty of time since I took a couple days off of work this week but I ended up getting called in so my plans were foiled.
Good thing I had a Wiksten Tova already in the works! I originally sewed this up in the dress version. I really liked the Tova dresses I had seen online but I felt like it had a super funky shape on me so Thanksgiving morning I chopped it off and rehemmed it as a top. The shape is perfect for eating copious amounts of pie and turkey.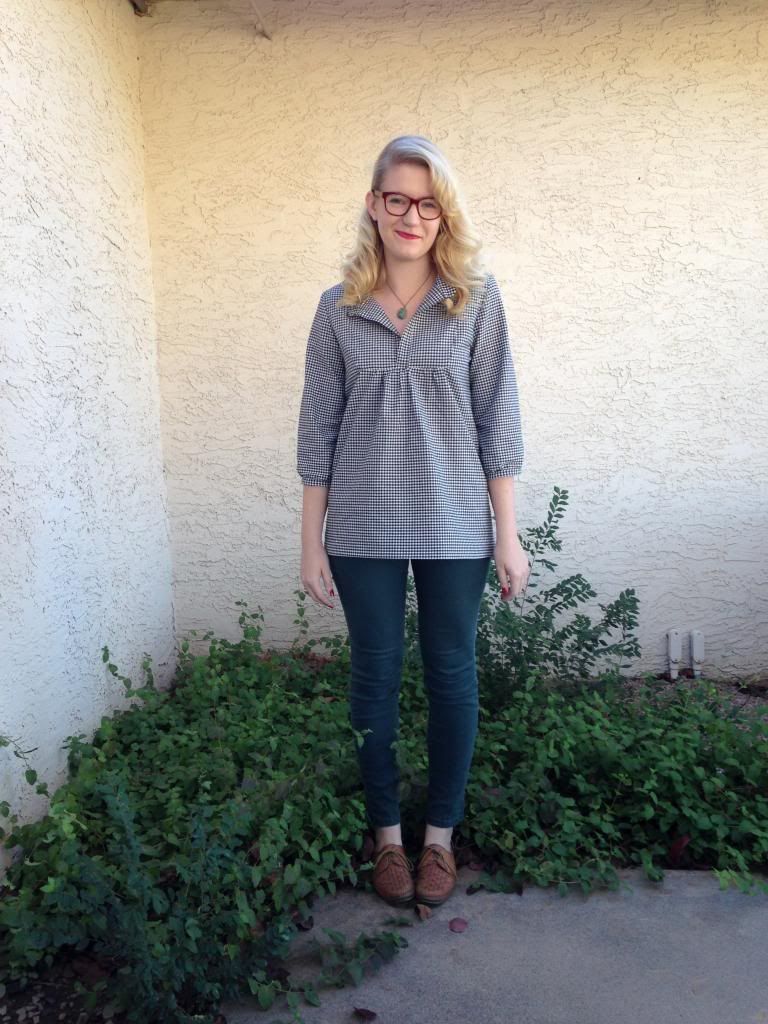 My sister took these lovely photos – She's a really good photo director. She told me to look for strawberries in these bushes and then look surprised when I didn't find anything haha.
This is my first Tova and I am super happy with the results. The pattern and directions are so straight forward and the fit turned out pretty spot on. I think next time I think I will taper the arms in slightly – they are a bit poofy for my taste.
I had some more of this check fabric so I have to figure out what else to make with it. Any suggestions?
One of my goals this year was to make more tops and I think the Tova can help get me to that goal. I think it would be nice in a bit fancier of a fabric so it could be work appropriate.
Hope everyone had a wonderful holiday! I am so lucky to have so much to be thankful for this year and every year!
December 1, 2013
This entry was posted in
Finished Products
and tagged
top
,
tova
,
wiksten
. Bookmark the
permalink
.
← Day Trippin
Cooper for the Hermano →