← Mom Status Denim Miette
So Many Unblogged Emery Dresses →
A Year in Review and My 26 Before 27 List
This is a super long post so be warned. For the past few years I've been making a birthday list of thing I want to accomplish the ensuing year – so since my birthday fell at the end of April its about time to put my next goals out there and recap last years list.
Let me tell you this past year turned out to be absolutely nothing like I thought it would.
In my 25th year on earth I ended a very long term relationship, moved out on my own again to a shoebox studio in downtown Phoenix, had a lot of pity parties for myself, then learned so much about myself and what I want out of life, reconnected with the one I thought got away, and now we are planning our future and wedding together. Overall it was a crazytown of a year but in the end I wouldn't really change any of it.
I think I grew into a really different person this year and I am really proud of it. This has been my mantra for the year.
So anyways here's the review of my 25 before 26 list. I did just fine this year and I'm really okay with most of the things that didn't get done. They ended up being non-priorities.
See Allison, my sister, get married! Had an absolute blast checking this one off.
Visit a state I've never been to. – I visited my oldest friend in Texas this past fall – We had such a fun time exploring Austin and ate like 93745973 tacos between the two of us.
Participate in Me Made May 2013! – this didn't work out because I ended up moving last second right at the beginning of the month and it just didn't work.
Sew a pair of well fitting pants – I sort of realized I didn't care about this one lol At this moment I'm all about making things that are satisfying and will get a lot of use. Maybe I'll revisit this some day.
Stop biting my nails – I'm crossing this off but its a work in progress. I got my own gel nail set and lamp thing which has helped immensely.
Decorate my new place – I definitely made my little space as cute and functional as possible. I will actually miss how tiny and cozy it is when we move next month.
Complete Gertie's Bombshell class and dress – As I said before I'm trying to focus on more practical items in my wardrobe so this didn't make the cut.
Spend a few days in Napa and the Bay area after Allison's wedding – I didn't get as much time as I would have liked but we did spend a couple days before the wedding in the napa valley and I spent a day in San Francisco after the wedding. I'm ready to relive those days very soon!
Eat breakfast more often – I did soo good at this one.
Read or listen to more books – I spend a lot of time driving from client to client for my work so I listened to tons of podcasts and books this year. Would have done even better if my funds were unlimited.
Visit a new and possibly weird museum – I sort of perused a mining museum on my weekend trip to Jerome this fall. I'm counting it.
Go on longer bike rides – I definitely rode my bike and walked way more once I moved downtown but I didn't really ride longer distances.
Try a new recipe every month – Did way better then one a month on this goal!
Sew more tops – Did really good at this but not good at bloggin my makes lol
Work on my debt snowball and stick to my strict budget. – did okay on this one but unfortunately this next year is all about the wedding fund.
Drink more water – check!
Start a new tradition – I did some volunteering at Christmas time and it was so much fun. I definitely want to do that every year.
Take a spontaneous weekend trip. – Went to Jerome on a whim and it was magical!
Bake some bread – this was a yummy one to check off
Learn to use my serger to its full capabilities – I got a new serger and it has totally brought my sewing mojo back!
Sew some cute pajamas – not even close on this one.
Hike the Grand Canyon – I actually had a plan to do this one at the end of May but it turns out I need to be moving that weekend but James and I are planning to try for this in the fall.
Complete a month long photo challenge – I started but really failed at this one but I'm fine with it.
Try making pasta from scratch – nope.
Have my favorite year yet! – Even with a lot of ups and downs this was such a great year. I can't wait to make next year even better.
And just cus you know, what kind of lady would I be if I didn't post some bragging photos from my engagement?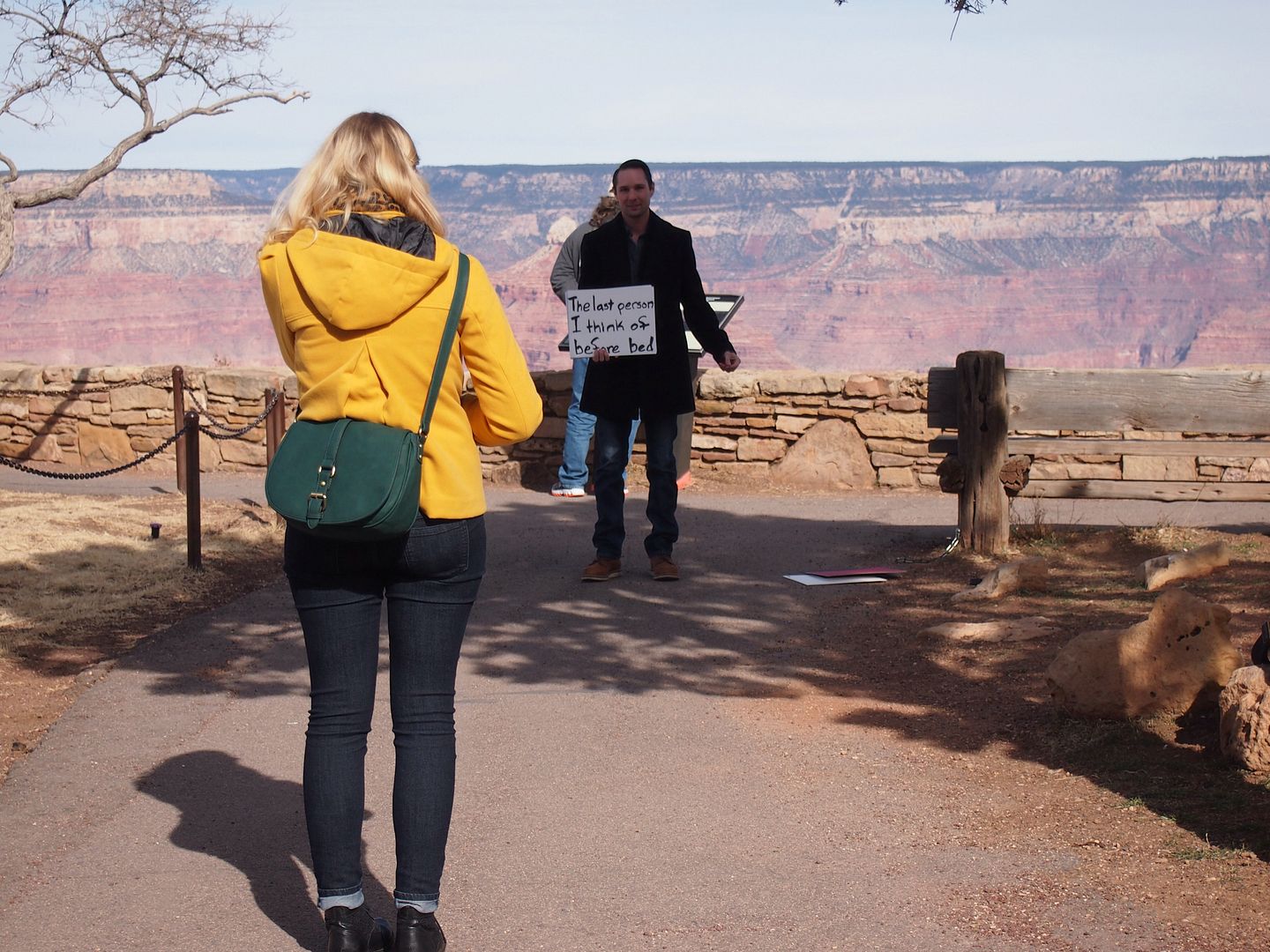 And if anyone is still with me here's my birthday list for the year
Get married! April 4, 2015! – Don't even bother asking, I'm not making my wedding dress lol I can't handle that kind of pressure!
Enjoy the process of wedding planning – I'm trying to savor every fun, tearful, and frustrating moment!
Knit a sweater – I got the My First Sweater class form craftsy so this one is already in the works!
Visit a new state
Get hypnotized and see if it conquers my fear of flying – I have my next session this week!
Do regular volunteering
Find a type of exercise I enjoy
Sew something pretty for our engagement photos
Go on a self date once a month
Keep in better contact with friends and family
Have 25% of my wardrobe handmade but only if its fun and useful (i'm trying to keep things realistic this year)
Pick a few important projects to DIY for the wedding (I'm not interested in doing every single thing myself but i do need some touches of me to make it perfect)
Get another tattoo
Discover more of downtown phoenix
Fill up my recipe book
Really organize my sewing space
Participate in May Made May – In the works!
Take a trip and visit my sister and hermano
Sew some jammies!
Ride bikes to the farmers market for fresh shopping!
Make new friends – I'm planning to start a Phoenix based sewing group once I move into my new and much bigger place. It would be great to meet some more sewers!
Sell something I've made but only if it s a fun process (again lets keep it realistic)
Become more involved in blogs (reading other cool blogs, commenting, and collaborating)
Sew something for my mama.
Try to be better about blogging the things I've sewn – I'm hoping this will improve once I've moved since there's no space in my current place and everyone knows I'm way too chicken to venture out into public with a tripod and remote.
Have the best year yet! – I may roll this one over each year!
Finished!
Do you keep a goal list for the new or keep new years resolutions? How do you stay motivated or hold yourself accountable?
May 15, 2014
This entry was posted in
Life
and tagged
25 before 26
,
26 before 27
. Bookmark the
permalink
.
← Mom Status Denim Miette
So Many Unblogged Emery Dresses →